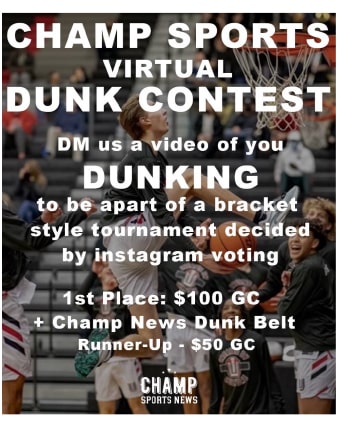 Champ Sports News is hosting the very first virtual dunk contest, with teams being in playoffs and COVID still ongoing. We have created a platform in which student-athletes can display their dunking abilities and compete for the chance to win Champ Sports News dunk title (and custom made belt) along with a $100 Champ Pizza gift card. The runner-up will also win a $50 gift card for making it to the finals. Speaking of the finals we will have an in-person final Dunk Showdown! Recorded by Champ Sports News to display the best two dunkers LIVE battling it out.
Contestants must submit their dunk video to Champ Sports News via our Instagram Account by March 6th, once this is done we will create a bracket. Each week we will post a head-to-head showdown of the dunkers with their videos of their best dunk. Our followers will then have 24 hours to vote on the best dunker of the two, and the winner will move on to the next round of the bracket. This will continue until we are down to our final two dunkers. After the live showdown we will post the video and give the final vote for the Dunk Champ of Clark County!
This will be the first of many All-Star type events we will be putting on, we have been formulating a 3pt contest, Trick Shot Contest and a variety of others to cover other sports unique talents or skills. So stay tuned! Eventually our hopes will be to have the Events take place in-person at Live Venues to include local vendors, local athletes, and representing local schools! Champ Sports News is on the rise, and we are here to takeover the sports media of Clark County, GSHL, & Trico!