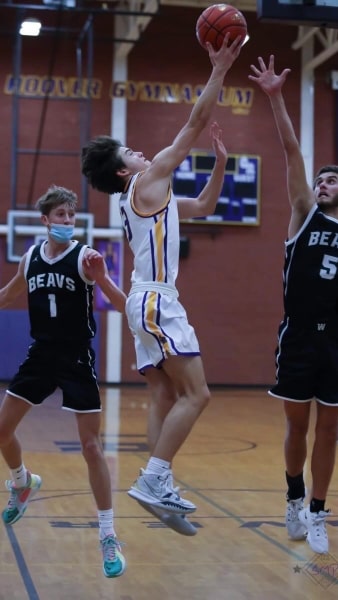 Columbia River Rapids are entering an era of losing their long-time, prestigious and highly recognized coach David Long. With this being the last season as he is retiring after a 32 year long run at the helm of River's basketball program. It was a difficult season saying bye, and resulting in a 7-13 overall record (7-8 in league). They still had a bid to play their way through regionals and were matched up with a Shelton HS team that had more experience and the height advantage over the Rapids.
From the get go the game seemed to be a tough matchup for River as they couldn't connect from 3 point land and were outmatched in the paint. Shelton built a large lead and headed into half seeming as though they would breeze through this young River team that was losing their coach after this season. However, as the second half began it was a new era of the River squad that showed up. This younger generation made it known that they would not go down without a fight.
The second half of the game was filled with 3 pointer after 3 pointer from two freshmen guards leading the way. Aaron Hoey connecting on multiple threes and Ari Richardson following suit by knocking down a couple himself. This offensive explosion seemed to inspire the rest of the squad as Nico Valdez made a few tough shots in the paint and held his own on the defensive end getting some much needed stops. And just like that the youthful River squad was back in the game, tying it up at 48 points with seconds left. They eventually got one more stop and possession of the ball, however it ended up being the inexperience catching the team at the end. Inbounding the ball with a full court heave, the ball rolled out untouched. This returned the possession to Shelton, underneath their hoop with seconds left. They inbounded to their big man, he redirected the ball to the hoop and off went the buzzer…score. It was heartbreaking to watch them fall 50-48 after battling so hard to get back in the game. But this squad showed their resilience and the future is certainly bright. With another year of experience under their belts keep a lookout for the Sharpshooting Columbia River Rapids.