UFC 272 Covington vs. Masvidal
Ricky Simons Picks
(Ranked #13 in UFC Bantamweight & Union High School Graduate)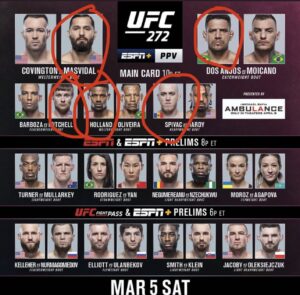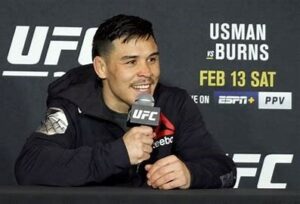 Cody's Picks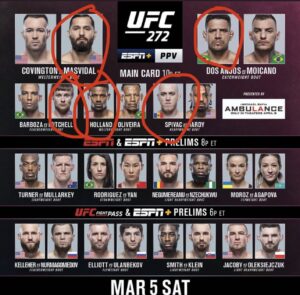 Tyson's Picks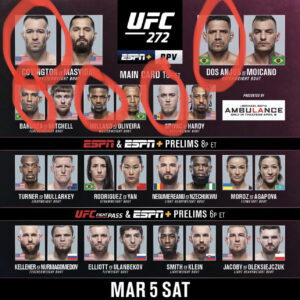 Adam's Picks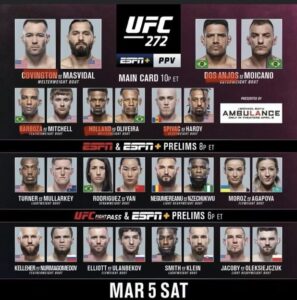 Codys Breakdown Preview of UFC 272
In a battle of former best-friends, roommates, and teammates Colby "Chaos" Covington the Oregon State wrestler turned MMA fighter and now self-proclaimed heel of the UFC will take on Jorge Masvidal. Masvidal is best known for his fastest knockout in the UFC landing a flying knee on Ben Askren, leaving him motionless in the middle of the octagon as well as his street fighting videos before his UFC days. In a battle of a collegiate wrestler, pace pushing, cardio king, and the street fighting, violent and super necessary KO.
Main Card – Sergey Spivak vs. Greg Hardy
Sergey Spivak looking to rebound off a loss to Tom Aspinall as he was on a 3-fight win streak just before that matchup. This young and on the rise, heavyweight will meet the villain Greg Hardy, former NFL standout for the Carolina Panthers & Dallas Cowboys exiled from the league for his off-field discretions. Many in the UFC have wanted to get their hands on this man, not due to his polarizing name but instead stemming from the fact he had put hands on his ex-girlfriend along with his obsession with the booger sugar. Hardy is coming off a vicious KO loss at the hands of Tai Tuivasa and currently rides a two-fight losing streak. Greg Hardy's fighting style is simple, using his athleticism to either get a takedown or land a violent overhand right for a KO. Spivak's more well-rounded MMA experience gets him the nod in this one as his wrestling will be too much for Hardy. Wearing him out and draining his power early on leading to Spivak getting the submission or a unanimous decision.
Spivak via Submission or UD
Kevin Holland vs. Alex Oliveira
Kevin the mouth Holland is always entertaining whether it talking to his opponent mid-fight or letting DC know he can hear his cheat codes. Though many feel he has been figured out due to his inability to get off the ground once taken down, he has shown strides in his takedown defense. With all that said when the fight is on the feet, Holland has been a menace piecing up his opponents with his kung-fu inspired striking. He is cutting down to welterweight (170lbs) from his natural weight class of middleweight (185lbs). He takes on the Brazilian Cowboy Alex Oliveira who also is known to be entertaining letting his personality show during fights, we expect this fight to take place on the feet as these two throw hands in the middle of the octagon. With that said we expect Holland to get the finish in either the first or second round.
Holland via KO 1st or 2nd round
              Edson Barboza vs. Bryce Mitchell
Barboza is best known for his kicking ability and his wheel-kick KO leaving Terry Etim looking like a statue. He comes off a brutal loss to Giga Chikadze where he was outclassed in every way possible. Enter Bryce Mitchell the camo-wearing country boy from Arkansas who was the second fighter to ever win via twister a submission. His only loss was on the Ultimate Fighter in the semi-final to Brad Katona, other than that Bryce has been perfect racking up win after win. Edson is a terrific fighter, but his time may be coming to an end. We give Bryce the nod in this one as the new era has begun.
Mitchell via Submission
              Rafael Dos Anjos vs. Renato Moicano
Dos Anjos at one time ruled this division, capturing the title over Anthony Pettis and defending against Donald Cerrone. He was lined up to defend his title against Conor McGregor but the fight would never come to fruition as Dos Anjos suffered an injury pulling him from the fight. Eventually he would fight Eddie Alvarez and lose his title, soon after moving up to welterweight and having the opportunity to fight for the interim title against Colby Covington (which he ended up losing). They will be fighting at a catchweight of 160lbs as he was slated to fight Rafael Fiziev but due to him testing positive for COVID he will fight Moicano on short notice. Important to note Dos Anjos has not fought since November of 2020. Moicano was rising through the ranks, he was being viewed as the next hot prospect to rule the division but as he faced the top tier he would get submitted and KO'd 3 times. All of that aside we see Dos Anjos returning to his previous dominance fighting as what would likely be his best weight class (though it does not actually exist within the UFC) at 160lbs and an opponent that is filling in on a short camp/short notice.
Dos Anjos via Unanimous Decision
              Colby Covington vs. Jorge Masvidal
This fight has everything you could ever want or need in the main event as it is two top-tier fighters, former teammates at American Top Team, and former best friends. Just a few years ago they would be in each other's corner or endorsing one another during interviews. But now…it is all bad blood. The disdain they have for one another is real and each interaction between the two seems as though it will only result in an all-out brawl.
Colby Covington was winning fights, but his grappling style was not winning him many fans, as his contract was nearing the end Covington & his manager were told by the UFC they were not interested in resigning him. Leading up to his fight against Demian Maia he knew he had to do something to attract fans and stay relevant. Thus, the SUPER Villain was born…Covington would insult the country of Brazil referring to it as a dump and stating that Brazilians were "filthy animals". This bad guy persona would continue to grow as he made insult after insult towards his opponents & eventually extended to the entire UFC roster.
Jorge Masvidal debuted his fighting skills via the internet through Kimbo Slice's street fight/backyard brawls. Eventually landing himself a deal with the UFC, Masvidal's career started out with much success winning most of his fights with a loss every now & then. Most felt Masvidal had all the potential to become a great champ but continually failed to reach his peak. Jorge took a short break from fighting but could not stay away for long. Upon his return it seems as though Masvidal was finally tapping into that potential which would lead him to fight for the BMF title, defeating Nate Diaz due to doctor stoppage. This would line him up for an actual UFC title shot against Kamaru Usman on short notice which he would go on to lose. Claiming he only lost due to fighting on short notice and with a full camp he would win eventually he would get his wish but the result would not change as he was KO'd by the champ this time.
Both Covington and Masvidal have lost to Usman twice, and this matchup could set up either with another meeting with the man that has reigned supreme of the welterweight division. Covington enters the match looking to push the pace either its on the feet or taking the fight to the ground utilizing his high-class wrestling. Masvidal looking to showcase his pure violence with devastating strikes or possibly a flying-knee knockout that has become a staple since knocking out Ben Askren in a UFC record of 5 seconds. We are betting on Masvidal as he has learned from his previous two fights with Usman that his wrestling & takedown defense needed to be leveled up. Keeping the fight on the feet will work in his favor as his striking is levels above Covington's and the pure power in which he possesses in his hands is superior to Covington's punches in bunches approach.
Masvidal via KO!!!