Quarter-Finals/ Elite 8 Results!
The Elite 8 proved to be a tough task for many of our local teams, but two were able to survive and move onto the Final Four!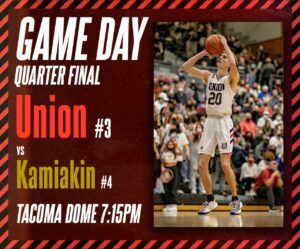 MBB: Union: 57 – Kamiakin: 41
Union Titans were out the gate and running! Leaving no question that they were the dominant squad in this matchup. They would take the lead and not falter throughout the match, sure Kamiakin made a few runs in an attempt to pull it somewhat close. But Bryson Metz (16pts/6rebs/3assts/2stls) and company would not allow them to get back into it. Yannis Fassilis had himself a game as well, leading all scorers with 21pts adding 5rebs, 3assts, 1blk and 3stls to his totals. He was a man on a mission and also received aid from Evan Eschels who provided 12pts/8rebs/1asst/1stl for the squad. The Titans didn't let the moment get the best of them and now will face off with Curtis in a rematch. The first meeting of these two teams resulted in Curtis besting the Titans by 3pts (60-57). This Union squad has been known to seek revenge and leave no question in the 2nd matchup. With a trip to the State Final on the line look for these Titans to bring their "A" game and battle leaving EVERYTHING on the court.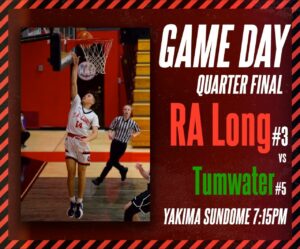 MBB: RA Long: 61 – Tumwater: 54
This REMATCH lived up to every expectation the previous match has set for these two teams, about as evenly matched as they come. Two complete teams with multiple players that contribute to each side. RA Long had the usual suspects stepping up with Cavin Holden 2x Player of the Year leading the way with 19pts/8rebs/2assts/2blks. He would lead the way along with Aaron Ofstun the big man contributing 12pts/6rebs/2assts/3stls to carry them past the Tumwater team once again. Stephen Rooklidge & Jamond Harris made solid efforts on the offensive end with 12pts & 8pts respectively. The Lumberjacks now find themselves in the Final Four/Semi-Final against Lynden. Winner will move on to play for a State Title!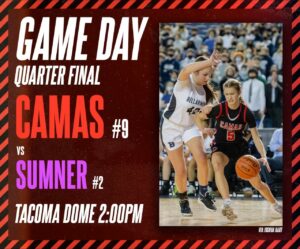 WBB: Camas: 57 – Sumner: 66
Camas found themselves in the previous matchup playing without their sophomore sensation Addison Harris.
Thursday they would also head into this contest without her, who would be the one to step up to fill the void as several did the previous match. Enter Reagan Jamison, with 25pts/9rebs/4steals she was on fire! Willing her team to fight back against a tough higher seeded team in Sumner. Kendall & Parker Mairs would also go on to have amazing impacts, battling for rebounds and showing their grit on the defensive end. Riley Sanz & Ava Smith also stepped up when it counted to get a couple buckets that would keep Camas within striking distance. But as the final moments wound down in regulations the refs would call a tick-tacky foul on Reagan Jamison…her 5th of the game. Sending her to watch the rest of the game from the bench. It ended up being the difference, as the Sumner squad took complete advantage spreading the score out just enough to edge the Camas girls. Camas will play Lake Stevens to sort out the placing for the girl's 4A state rankings. But the evident message was this squad full of young talent WILL be back next year, with an extra year of experience and we pray a full healthy squad to make another run hoping to bring home a State Title.
Camas vs. Lake Steven's 3/4/22 @10:30am for Placing.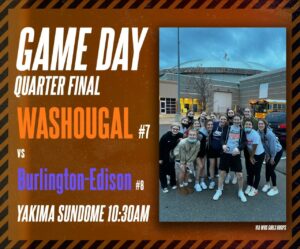 WBB: Washougal: 33 – Burlington-Edison: 53
First up on the day Washougal went to battle with Burlington-Edison, this game started fast with Burlington-Edison jumping out to a large lead. The Washougal squad just couldn't make up the slow start that put them down early. Jaiden Bea battled putting up 20 of the 33 points for the Washougal squad but the remaining cast failed to contribute enough to pull them within striking distance. The Panthers shot 24.4% from the field and a low 7.1% from 3pt land. While struggling to get the ball in the net and 23 turnovers it was just too much to overcome. The Washougal Panthers are set to play Archbishop Murphy to sort out the placing of the squads not playing in the final.
Washougal vs. Archbishop Murphy 3/4/22 @9am for Placing.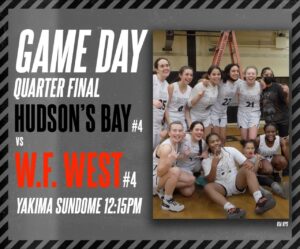 WBB: Hudson's Bay: 41 – WF West: 48
Hudson's Bay then rematched with a tough WF West team that they had previously beat by just 3 points.
The Bay squad headed into the match with a W over the opposing squad but that meant nothing as this game had Final Four implications. WF West & Bay started slow, both teams displaying gritty defensive efforts to stifle each other's offense. In a back-and-forth match and what would end up being a low-scoring affair the WF West team would get Aniyah Hampton (HB) star player and MVP into foul trouble, eventually fouling out. They had to finish the game without her and that is when WF West would grab the lead, extending it just out of reach of the Hudson's Bay team. Hudson's Bay finds themselves on the outside playing West Valley for a chance to place near the top as they will not be playing for a State Title.
Hudson's Bay vs. West Valley 3/4/22 @10:30am for Placing.
By: Cody Escott