Cody Wheeler is a unique type of athlete, though you would think with a 21-0 wrestling record that it would be his main sport and the one in which he is receiving college attention. However, he is most notably being considered for his football career. Gaining interest from Pacific, Lewis & Clark, & Whitworth. He is also being considered for his track performance by Youngstown & Eastern Washington.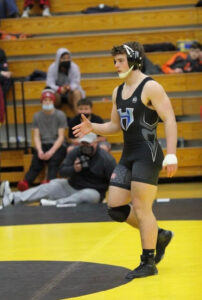 This three-sport athlete has opportunities in abundance! But in the cusp of his wrestling season, he is looking to keep perfect as he aims to reach his full potential. Everyday looking to compete and in the hopes of winning a state title for wrestling. The team itself stands at 2-1 with the mantra of shoot, shoot, and shoot…and when you are tired keep shooting! Wrestling at 195 lbs but walking around at 212 lbs he does face a bit of a weight cut, but nothing a little discipline with his diet which he considers easy.
Cody's dream is to get to play for a Pac 12 school, which with the rate he is getting offers and the versatility in his arsenal of athletic abilities it doesn't seem far off. With wrestling season nearing its end, and track beginning look for this student-athlete to finish his school year with a BANG to get the last few offers. We are rooting for Cody to get his dream and be able to play Pac 12 football & track in his future!