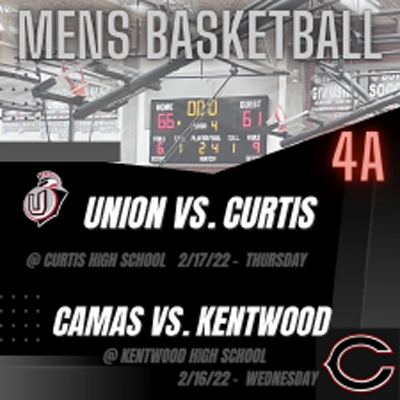 Rivalries always add to the intensity and excitement of sports, this is true especially when talking about these two teams. The rivalry has grown and grown, and this year the two teams ended up playing three times! With the final game deciding the seeding for playoffs. But first let's rewind, the first matchup was a back & forth grind between these two teams. The end result was Union turning it on in the fourth quarter to grab the lead and not let it go, ending in a 12 point victory (72-60 Union wins).
Round 2 if at all possible was even more exhilarating than the previous game. Camas came locked in getting off to a quick start. Stifling the Union squads offense, and with that they built a large lead throughout the first half. But sure enough Union fought their way back into the game, unfortunately for them they ran out of time. Suffering a three point defeat, falling just short of grabbing a second win over the Papermaker squad (80-77 Camas wins).
The final match was for all the marbles, bragging rights, top seed heading into playoff games, and the grudge match was exactly as you would expect. Taking place at a neutral site, both schools showed out in attendance. The crowds were battling one another with boisterous cheers and eventually battling it out for a homemade sign (which would get folded and removed from their possession). As for the game, it ended up being all business for Union. Looking to avenge their loss from the previous night and stake their claim as the top team in the area. They did so by defeating the tough Camas team by twenty-two points. The rivalry lives on to fight another day as both teams look to win out in the tournament and potentially faceoff AGAIN! Both teams have gained wins in their first round matchups and play their next matches. Union will take on Curtis HS on Thursday 2/17/22 and Camas will battle Kentwood HS on Wednesday 2/16/22.